The Rice-UT Public Health Scholars Program is a collaborative initiative between Rice University and the University of Texas School of Public Health (UTSPH) in Houston, Texas. This program will allow selected undergraduate students interested in public health to enroll in up to 5 core courses at the UT School of Public Health during their senior year at Rice and obtain dual undergraduate and graduate credit. This unique BA/BS-MPH program will enable accepted students to accelerate and complete their Master of Public Health degree (MPH) in one year after completing their undergraduate degree.
Eligibility:
Candidates must be within one year of graduating at the end of the Spring 2023 semester.

Minimum GPA of 3.0.
Any Rice major may apply. There are no specific prerequisites.
Application must include:
List of remaining degree requirements (major, minor and general) required for graduation from Rice.

Certification of good academic standing by major advisor.

Student's signature of intent to complete the MPH at UTSPH after graduating from Rice.

1-2 page personal statement describing student's interest in public health and reasons for wanting to complete an MPH degree.

Senior year course plan form.

Student résumé.

Recommendation letter from a Rice University faculty member. The faculty member should email this letter directly to the Office of the Dean of Undergraduates at ugdean@rice.edu.
Selection:
During the 2023-2024 year of the program, between 4 and 6 students will be admitted to the accelerated BA/BS-MPH program.

A joint Rice-UTSPH committee of faculty will review applicants.
Admission will be based on the quality of the application criteria and the student's demonstrated interest in the field of public health.
Final admission to the 2nd year of the accelerated program requires completion of the GRE exam and the Undergraduate degree at Rice.
How to Apply:
Attend the Information Session on Wednesday, January 25 at 12:00pm - 1:00pm in KRF 105 or via Zoom: 962 4150 4862 (Meeting ID) | 4+1 (Passcode).

Download the program application.
All application materials should be sent to ugdean@rice.edu.
Deadline for submission for Fall 2024 is Friday, February 24, 2023 by 5pm.
Review the FAQs.
For additional information, please contact Dr. Kirsten Ostherr, Co-Director at kostherr@rice.edu or Dr. Cassandra Diep, Co-Director, at csdiep@rice.edu.
---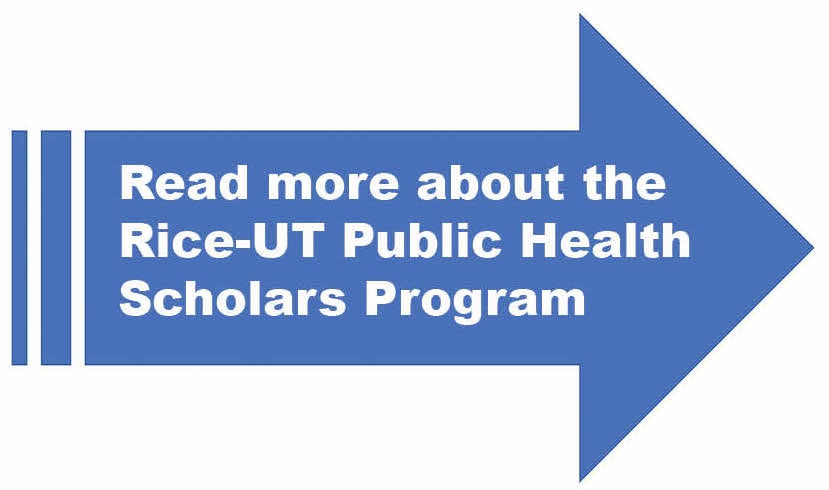 ---